It's Week 11 of the Breastfeeding Blog Hop
Topic:

Introducing Solids
Share your thoughts on introducing solids. Been there and have advice to share? Looking for tips on how to introduce solids with your little one? Confused about things you've read or heard about?
(New to blog hops? Check out: "How To Blog Hop")
Hosts:
This Week's Guest
Host: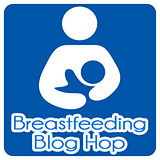 Want to participate in this
week's blog hop?
Here's what you need to do:
Find a post on your blog related to this week's topic –
Introducing Solids. You can write a new post, or use a past post..
Link up your post. (Be sure to use the URL for your
post, not your blog homepage). Have more than one post you want to add? Go ahead and
link them all!
Add the linky code to the bottom of your post, then
copy/paste these guidelines above the linky. (You can grab the linky code by clicking
the "Get Code Here" link in the lower right corner of the Linky box below)
Optional:



Show your hosts some love – follow them on GFC. Leave a

comment that you found them through the BFing Blog Hop so they can follow you back!





Check out some of the other blogs that linked up – the more
blogs you follow (and comment on), the more followers you'll gain.




Grab the Breastfeeding Blog Hop button below and display
it on your sidebar or in your post.
Each week a Guest Host will be chosen by Random.org from
the participants in the previous week's blog hop.
This linky will be open two
days - Thursday, 03/17 & Friday, 03/18.