Date: March 9th
Current Weight: 203 pounds
Change from Last Week: 1 pound
Pregnancy Weight Lost: 24 Pounds
Next Goal: 197 pounds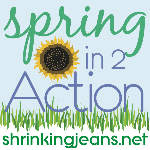 I finally lost a pound, which is absolutely AMAZING because I didn't work out AT ALL last week. Why?
Well, Bug had her 6 week growth spurt early and spent most of the week on my boob. It's kind of hard to run with an infant hanging from your boobie.
Also, my grandmother passed away last Thursday. I wasn't terribly upset because she has been suffering from dementia and congestive heart failure for more than 10 years and there have been several times when we were sure she wouldn't last another year. She was bed ridden and her quality of life was pretty bad. That didn't stop me from trying to eat all of my bad feelings away. Damn those girl scout cookies.
I did check out
My Fitness Pal
, another recommendation from Christie O. over at
Average Moms Wear Capes
. It allows me to count my calories and track workouts (if I ever get around to doing one again!). And, its free.
I am not very good at counting calories, especially if I cook something and I'm not quite sure how to count it. I frequently give up the calorie counting after lunch, but even when I'm only tracking some of my calories, it does make me aware of how much I'm taking in.
Tomorrow, I have to head back to work. Its only for 2 days, and then I'm off for 2 weeks for spring break, but the thought is absolutely killing me. It will most likely be good for my weightloss, but I really am not looking forward to it.
I'll be checking in when I can. I have about a billion things I want to write about when I have time.
Ha Ha!